Well hello there. Did you think I was never ever coming back? For a hot minute there yesterday I thought about missing my flight and making a new life in Key West where I could forever live my life on island time with cabana boys brining me endless pina coladas and sangria, but then I realized how much I missed my fiancé and our two fur babies and hopped on that plane as fast as I possibly could. I also realized that island time doesn't work very well for this type-A avid planner who has to have a plan for every minute of every day.
This was my first trip to Key West, and I can guarantee it won't be my last. Except next time there is no way I'm leaving the fiancé at home. This is also about to be the longest post in the history of posts because I am going to recap my entire vacation. I would split it up into multiple posts, but ain't nobody got time for that. I'm leaving first thing in the morning to head to the lake for the week for a forth of July family reunion. Apparently my liver doesn't hate me enough just quite yet, so I need to go spend next week drinking my body weight in boat drinks to really send it over the edge.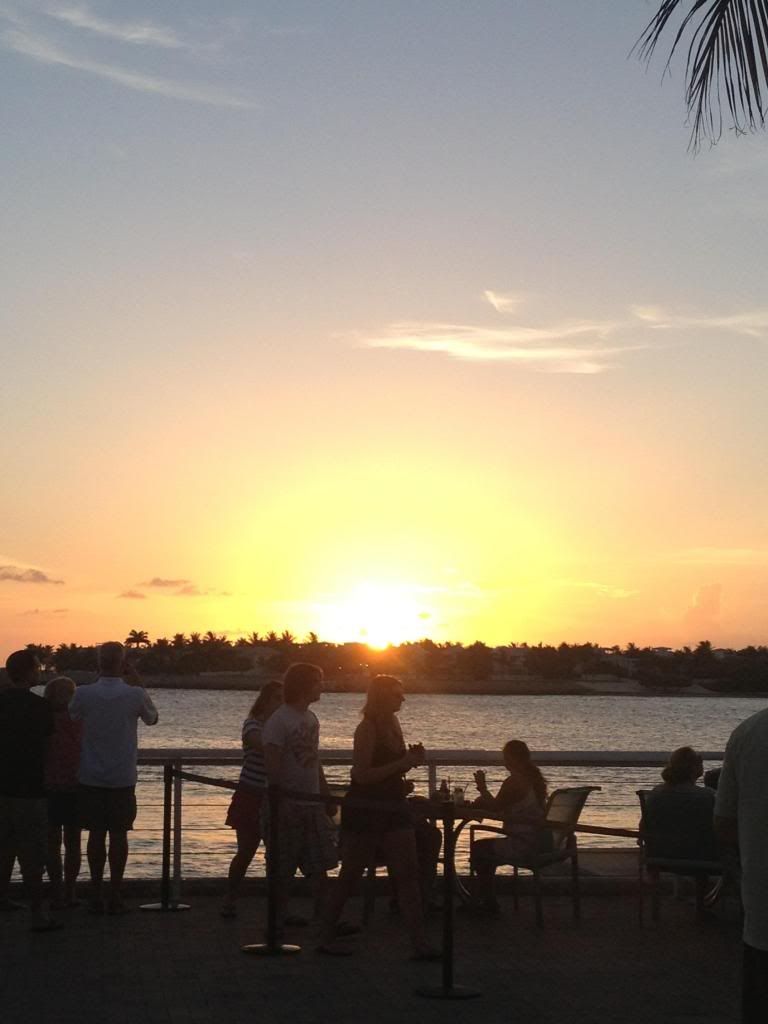 We rolled into town a mere six hours before the little brother turned 21. By the time we dropped our luggage off at the resort and ate a delicious dinner overlooking the ocean, it was time to head to Duval Street and begin the birthday festivities. At exactly 12:00 midnight we were sitting our happy asses in the first bar we could find with a shot in hand.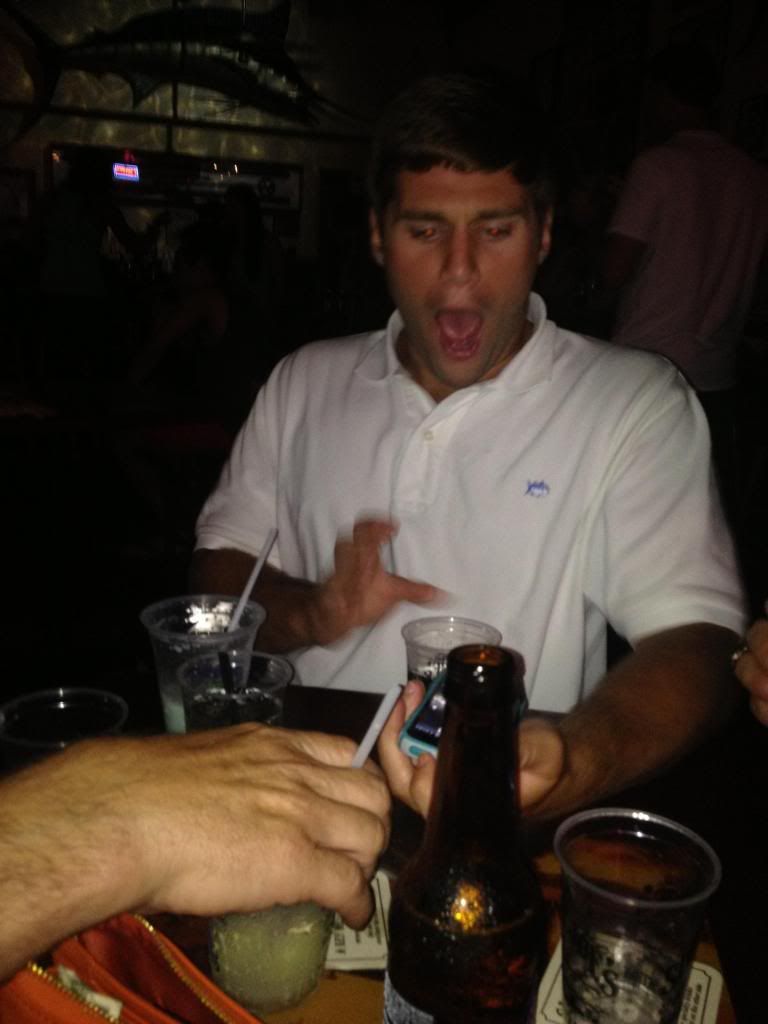 Then it was on to Coyote Ugly where I promptly shouted to the strippers bartendars dancing on the bar that it was my little brother's 21st birthday. Mistake? Nope. I paid those nice young Christian girls who were stripping and making out with each other on the bar $20 in order to thoroughly embarrass the little brother with a body shot. They didn't stop there. After the shot they lifted his shirt and began to cut the elastic off of his boxers. Classy joint. He only mildly hated me at this point.
Because I decided to celebrate like it was my 21st birthday all over again, that's where the pictures end for the night. Once you've take eleven billion and ten shots, you tend to forget to pull out the camera.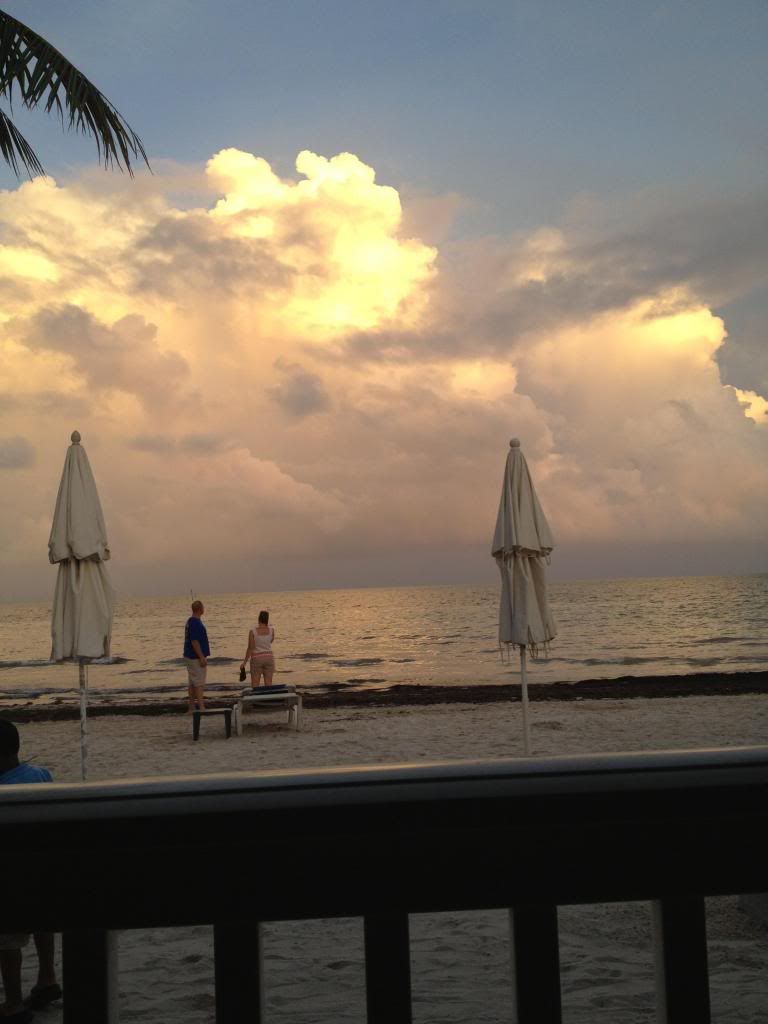 The next morning we rolled out of bed, stumbled downstairs for a greasy breakfast and a little hair of the dog, and began our day by being spoiled rotten by the cabana boys. Tough life I tell ya.
That afternoon consisted of a little snorkeling trip. Except, I don't snorkel. I am one of the biggest germophobes you will ever encounter, and there is no way in hell I will stick my mouth in snorkeling gear that a billion other people have had their nasty herpes infected mouths. Vomit. So I sat on the boat, laid out, and drank beer. I mean really it was a win-win situation for me.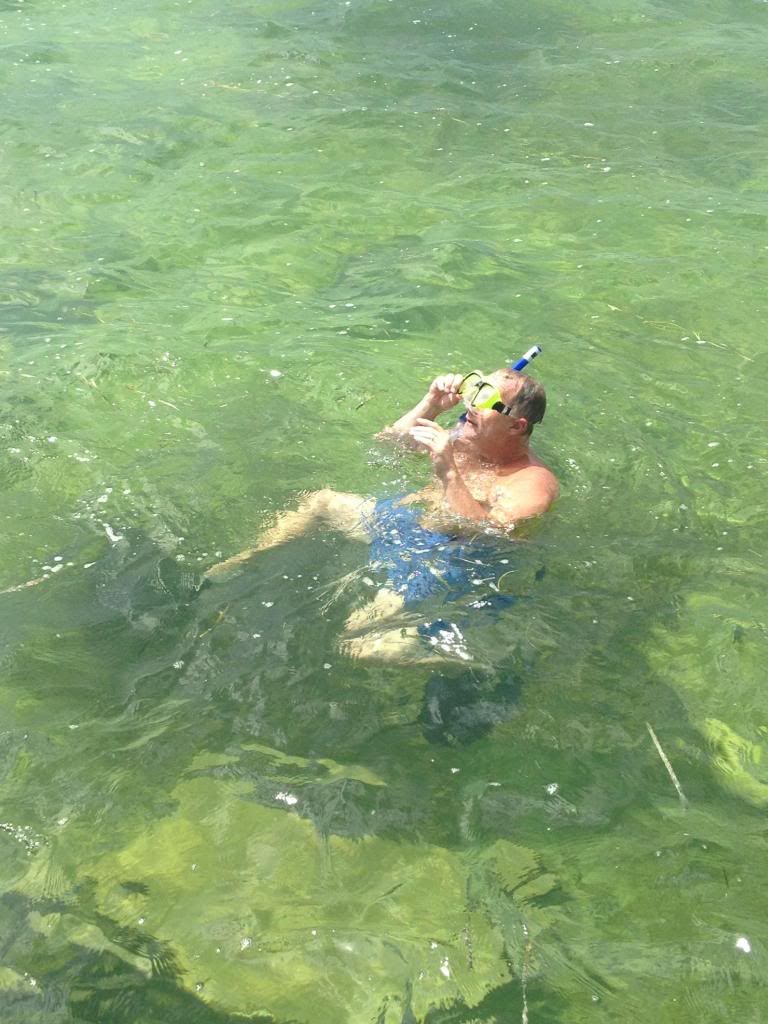 We had reservations that night for a wonderful restaurant call Latitudes. But in order to get to the restaurant we had to take a ferry to another island. An island that can only be accessed via ferry, which made me a little claustrophobic and antsy, but the restaurant was amazing, so I just drank a few extra bottles glasses of wine and got over myself. The view from this restaurant was breathtaking. We were only steps from the ocean and the most amazing sunset you will ever see.
I would continue to give a play by play of every minute of every day of the trip, but this is where my memory gets a little fuzzy and things start running together. Basically every day consisted of the same. Beach time in the mornings complete with bottomless pina coladas being hand delivered by precious little cabana boys, bar time in the afternoon listening to some of the best music I've heard, eating fresh seafood, pool time before dinner with more cabana boy pina colada action, amazing dinner with sunset views over the ocean, then lots and lots of bar hopping, and finally, a pepperoni pizza late night snack before bed.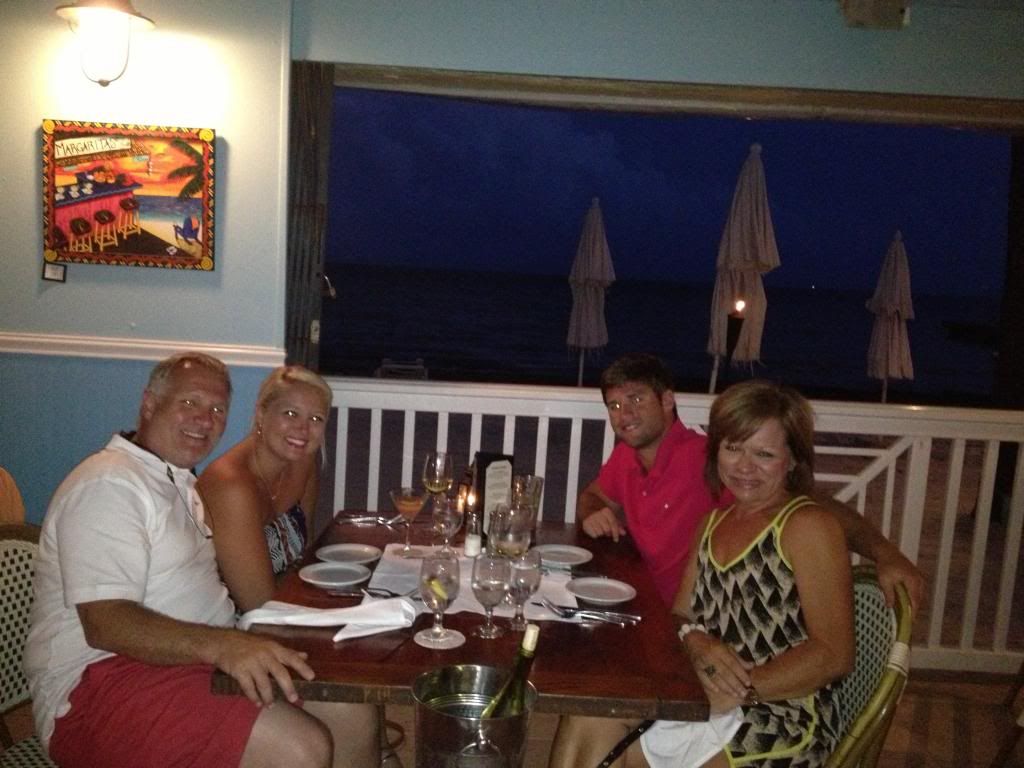 Finally, we couldn't leave the island without brining home a couple of tattoos to remember the trip by. No worries, this girl didn't come home with any extra ink. My father and brother decided the perfect way to mark the trip would be to get matching tattoos... on their ass... of a parrot head. Yes, it really did happen. Because the tattoos were placed in quite the inappropriate area, I won't disgust you with a picture. I'm sure you can already picture it in your head anyway.
If you haven't already come to this conclusion yourself, my family is crazy. Crazy in the most perfect way.
I'm off to another vacation.