I'm linking up with
Mallory
today to talk about my most favorite subject ever, my dogs.
Don't judge me.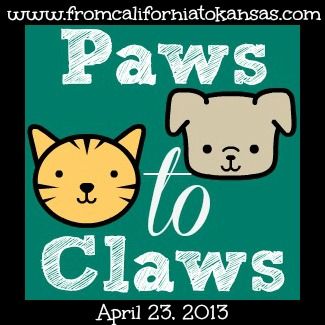 If you didn't already know, I'm kind of obsessed with my dogs. Like really obsessed.
Cooper
(aka Pooper, Coop Coop, Poops, Pooh Bear) is my first born. I got him 4 years ago from a breeder after my freshman year in college. After months of research on the perfect small dog breed I decided on a shih-tzu. Once that decision was made I began another month of research on the perfect breeder to purchase my little ball of fluff. The day finally came for me to pick up my new little baby, so I exchanged half of my savings account for a 2 pound puppy and his registration papers.
Fast forward 4 years and you can clearly see that I got ripped off from that asshole. Other than the fact that I handed over more money that anyone should hand over for a dog, I've come to grips that my 6 months of research to find the perfect fur baby was pretty much a waste of time. Everything happens for a reason, and in my case I wound up with the most wonderfully perfect skittish little ball of fluff that anyone could ever ask for.
Kane
(aka K, KK, KiKi, Shit Head) is my second born child. Unlike Cooper, Kane was a spontaneous decision (and if you know anything about me, you know that I am not a spontaneous person by any means). I had actually been bugging the fiancé for months about getting another dog so Cooper could have a playmate. He told me time and time again that we would get another dog once we buy a house and things settle down. That became the plan. Apparently, plans change. One morning during Saturday brunch (the bloody marys and mimosas may have had a strong influence in this) the fiancé and I decided to go to the humane society (just to look around). Long story short, we came home with Kane; A 7 week old, 6 pound boxer/lab mutt. We have had Kane for a little over 2 months now, and in those two months he has tripled in size and destroyed nearly every toy and shoe left on the floor. He pees all over my house and he treats Cooper's tail as his own personal chew toy. He is a huge pain in the ass, but he is our little pain in the ass. We love our little monster.
Now I'm missing my fur babies and want to go home and play with them.